Width: 155/80 | Alfa Romeo Giulietta 1954 to 1964
Unlike trying to summarise this model range, this tyre guide is quite simple. All the Sprint, Berlina, Spider and SS models were specified a 155-15 / 155-380 tyre, the modern equivalent of which is a 155SR15 radial tyre.
Alfa's model ranges can seem a slightly confusing confusion of named ranges and versions. This entry covers the large range of cars developed from the Giulietta Sprint coupe of 1954. This initial model was in huge demand in its first year, and was joined by a Belina (saloon) and a Spider (convertible) in 1955. Each was available with a range of engines and levels of performance (faster models were named Veloce and Ti).
Until 1959 these cars were grouped under the 'Type 750' platform name, and 'Type 101' afterwards. Later versions included the Sprint Speciale (or SS), a higher-performance coupe with swoopier styling (the last few were renamed Giulia despite being Giulietta based, it is confusing). There were also Zagato competition versions named SVZ, SZ and SZ2.
Read more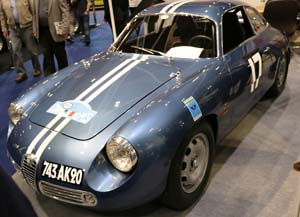 Vredestein Snow Classic 155R15 82Q