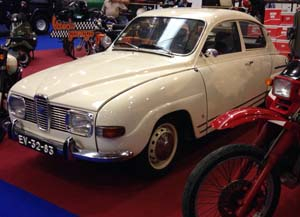 96 1971 to 1980
Saab 96 1971 to 1980
Saab's definitive early model. Built from 1960 to 1980 with various engines.
Originally fitted with a 155SR15 radial tyre.
The Saab 96 debuted in autumn 1960 but it didn't go on sale in the UK for another two years. The engine was an 841cc two-stroke three-cylinder unit mated to a three-speed gearbox; a four-speed transmission was optional until 1966, when it became standard. Seatbelts were fitted from 1962 and dual-circuit brakes from 1964.
Also debuting in 1962 was the triple-carbed Saab 96 Sport, successor to the Swedish-market Gran Turismo 750 of 1960. In 1966 this became the Monte Carlo to celebrate Erik Carlsson's outright win of the famous rally; in 1965 a facelifted 96 had been launched, with a new front end. Two years later the two-stroke engine was replaced by a 1498cc V4 unit, and front disc brakes became standard.
There was a facelifted bodyshell for 1968, with larger screens front and rear, then in 1969 a brake servo became standard. A revised dash came in 1970 and impact-absorbing bumpers arrived in 1975 but the following year Saab stopped importing the 96 to the UK and production ended in 1980.
Read more
Vredestein Snow Classic 155R15 82Q