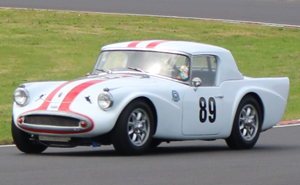 Dart SP250
Daimler Dart SP250
Daimler's V8 powered sportscar, built from 1959 to 1964.
The original standard tyre was a no longer available 550-15 crossply, replaced by a 590-15 in 1962. This can be retrofitted to earlier cars. The closest radial alternative fitment is a 165R15.
When the Daimler Dart was unveiled at the April 1959 New York Auto Show, the British company had never produced a two-seater sports car, so it caused quite a stir. Made of this wondrous new material called glassfibre, few liked its ungainly appearance and US car maker Dodge really didn't like the choice of name as it owned the trademark, forcing Daimler to quickly switch to SP250.
Launched for sale in the UK in September 1959, the SP250 was powered by a fabulous 2.5-litre V8 which was easily the car's best feature. Production ended in September 1964 with no major changes between the first and last changes. However, there were some adjustments as production progressed.
From October 1960 a hard top was offered, then in April 1961 the B-Spec SP250 debuted with an adjustable steering column, front and rear bumpers, a reserve fuel tank and windscreen washers. There was also a stronger rear axle, a stronger chassis and revised interior trim. The C-Spec SP250 of April 1963 brought a standard heater, cigarette lighter and built-in trickle charger socket.
Read more
Vredestein Snow Classic 165R15 86Q