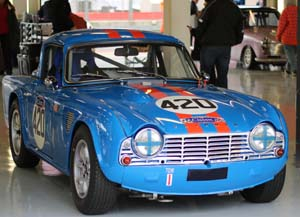 TR4
Triumph TR4
Traditional British sports car. Built from 1961 to 1965.
Originally fitted with a 590-15 crossply tyre. The best radial replacement tyre would be a 165R15.
After eight years on sale, the side-screen TR (in TR3A form) was replaced by the much more modern Triumph TR4. Styled by Michelotti, the TR4 featured new bodywork but carried over the TR3A's chassis, albeit with wider front and rear tracks. There was also now rack-and-pinion steering, an all-syncromesh gearbox, the engine was bored out to 2138cc and there was a targa roof arrangement called the Surrey Top.
The TR4A of 1965 brought a redesigned rear chassis incorporating independent rear suspension with coil springs and semi-trailing wishbones. However, for the North American market only, the original live-axled configuration was still offered.
In 1967 the TR5 superseded the TR4A. While the bodyshell was carried over, the four-cylinder engine was swapped for a fuel-injected straight-six engine, although North American cars featured twin carburettors and were badged TR250. In 1968 the final TR5 and TR250 were built, to make way for the TR6, which was effectively just a reskinned version of its predecessor.
Read more